Investing in a facial is an investment in the health of your skin. That's why we provide a wide variety of facials that you can choose from based on your skincare needs.
Refreshing Facial is 30 minute facial customized according to skin type. It will leave your skin feeling refreshed. It's perfect for people on the go.
Teen Facial, a teen facial session includes a deep pore cleansing, ozone steam, extraction, high frequency sterilization to eliminate germs and an antiseptic cool modeling mask. This is an excellent treatment that helps young people manage their skin.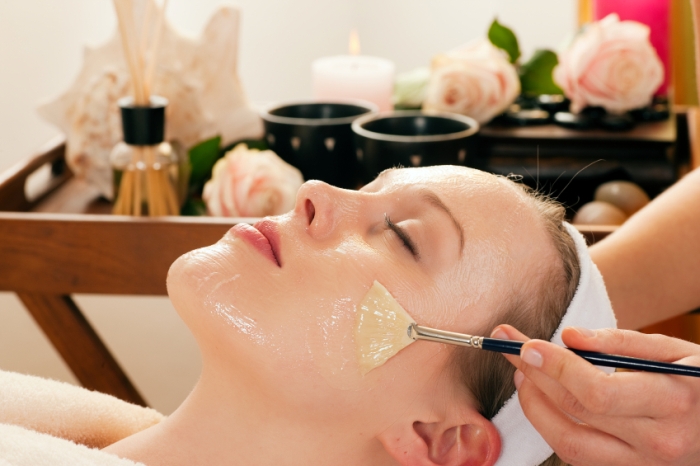 Deep Cleansing Facial, discover a healthy complexion with this customized facial, incorporating European methods. A melody of nature's best: grapefruit, aloe vera or honey extracts and cleanses the skin. A gentle treatment that rejuvenates and illuminates the complexion.
European Facial, you will feel pampered as your skin reveals a naturally healthy glow with this deep cleansing done with steam, exfoliation, extractions, a relaxing massage, customized mask, toner and moisturizer. Feel the difference!
Aromatherapy Facial, a deep pore cleansing facial customized according to skin type. A special aromatherapy oil with relaxing massage will leave your skin feeling youthful and take your tirdeness away.
Acne Treatment, this treatment will include gentle cleansing and exfoliation. The focus will be on extractions to eliminate white and blackheads, further breakouts and scarring. Treatment concludes with a medicating mask.
Acupressure Facial, indulge yourself with all the purification of a European Facial. This however, includes a scalp and facial pressure point massage specialized to relieve stress, tension, and headaches.
Resurfacing Peel, this safe treatment using glycolic acid to exfoliate dead surface skin modifies wrinkles, uneven skin tones and leaves your skin feeling new and improved.
1 Treatment (Series of 6 treatments recommended)
Diamond Peel Facial, if you have fine lines and wrinkles, acne scars, age spots, rough or uneven skin, hyper pigmentation, surgical scars, or sun damaged skin then this treatment is for you. Micro-dermabrasion offers a virtually painless treatment for these skin problems. This safe, effective treatment has been performed in Europe for over a decade. See noticeable results after your first treatment.
1 Treatment (Series of 6 treatments recommended)
Lightening Treatment, this professional treatment gently removes dead surface cells to help refine skin. Effective for tired, dull and dark skin.
Collagen Lifting Facial, this customized anti-aging facial packs a powerful punch of peptides, antioxidants, firming collagen and hyaluronic filling agents. Reveal a more youthful skin as if you have turned back the hands of time. A mineral micro-dermabrasion of volcanic rock and salicylic acid will prepare the skin to receive the effects of our wrinkle filling serums. Continue with a facial massage with our patented elasticity revealer followed by a collage lifting mask to plump and repair the skin, resulting in younger looking skin.
Eye Contour Treatment, fades away dark circles, re-firming eye bags, reduces puffiness, and diminishes fine lines to create a feeling of relaxation.
Back Facial, designed for the treatment of oily, problematic, blemished skin, this purifying facial uses concentrated formulas of salicylic and glycolic acids to offer multi-benefits, absorb oil, reduce impurities and exfoliate while soothing and balancing the skin.